Yezza!!!
(Disclaimer : Yup, I'm Farah's pro tapi segala comments dan review dibuat seikhlas hati and not bias. Kalo ader lacking memang kena ngomel gak...Kebenaran harus ditegakkan...Eceh)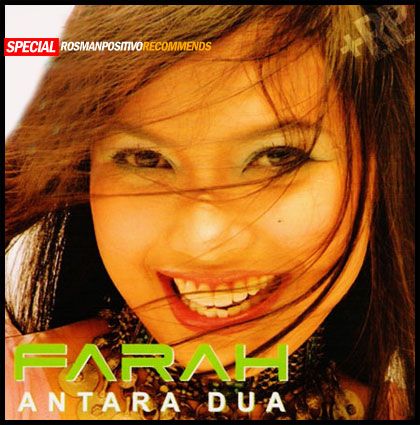 Alhamdulillah...
At last ke market gak album Si Comel nih. I told you ah, this album ah, long time to wait tau. Sudah siap tapi tokey tarak mau jual dulu...ekekek. Saja kasik itu fanz waiting2 punya tau. But I think it's worth waiting. Okay, this one is not to challenge the juara2 of any reality show or artis sedia-ada, but ini sudah memadai untuk membuktikan yang Farah is ready to rock your world man!
4th place in Akademi Fantasia, got what for the hadiah? No car, no so-called prizes cambest etc...But pulangannya memang worth more than that, she even can afford to buy all the prizes by herself now. I tell you, blom pernah aku jumpa peserta sebuah pertandingan nyanyian

(AF is a singing competition ker??? Okay, a reality tv show)

, yang tidak mendapat nombor kat Final, menjadi sangat menyerlah sekali bila keluar! This one memang fenomena ajaib AF2. Let's say all the finalists memang really bertuah.
Back to the topic, okay, I'm glad that pihak Maestro nampak market dan kebolehan Farah untuk bakatnya diserlahkan lagi dan dijual dalam bentuk album, full album plak tuh. Actually, Farah's project adalah for mini album, but maybe memang producer and investor semakin yakin dgn Farah then diorang tuka plan, jadik laa full album. Rezeki Si Apom...And LOL, album dia kuar after album Zahid The Champion launched. Sekaligus menjadi suatu cabaran kepada Adam dan Linda sebagai runner-ups yang mana projek untuk album mereka masih dalam pembikinan. Itulah keajaiban Akademi Fantasia, itulah keajaiban Farah Diana...
The Cover
Actually memang masalah dengan Astro/Maestro nih, diorang agak lemah dalam meningkatkan kualiti/kreativiti cover album dan video clips, kalo nak dibandingkan dengan international labels

(Kalo labels yang cikai2 tue takyah laa banding kan...)

Untuk album nie misalnya, pose sebegitu memang pernah digunakan sebelum nie

(i.e Amy Mastura..etc)

. Inlay, terlalu simple, dan bukan simple yang orang kate less is more, tapi less the pemalas.

(Kasik aku design aku wat gile2 nye laa)

Penggunaan fonts - is that Arial all the way? Sigh...Cuma nama FARAH tue je font lain. Tue pon macam lebih ke arah high tech la plak. Kurang seswai. Main colour is

Green

, okaylaa, nampak damai sket. Theme? Oh...tidak! The corak2? Is this an ethnic creative nye album? Come on, gune laa creativity2 anda wahai Encik Marfazli Azrul Marsuki dan Marfizul Azuan Marsuki oit...Anda tag team, adik beradik lak tuh kan? But you're not using your creativity, atau anda hanya berminat membuat bisnes? Sorry laa terkutuk lebih2. Bagi saya anda berdua tidak membuat homework untuk mengkaji genre muzik, personaliti dan jiwa Farah. LUCKILY, Farah is the most photogenic gurl yang saya kenali dan segala pose dalam cover memang sedap mata memandang. Farah telah menyelamatkan kerja anda, and korang yang get paid, lucky you two! Okay, think this is enough untuk memotivasikan anda berdua.
The Tracks
01 - Jalan Terakhir
Permulaannya sudah dapat diagak bau Cikgu Adnan. Balada Cikgu Adnan sebenarnya dapat dicam style nya kalo anda follow dan dengar dan kaji betol2. Irama basic chorus selalunya 3 atau 2 lines aje, bukan 4 lines macam biase orang buat. Dan ader bridge before chorus. Okay, startingnya biasa, but chorusnya agak sedap didengar. That one memang speciality Cikgu Adnan, membuat chorus yang digemari masyarakat. Lihat saja macam mana lagu Siti, Misha etc yang dibikin Cikgu Adnan. Balada yang melekat di sanubari. But this one is no match for Tangisan Dalam Kerinduan.
02 - Antara Dua
Second single after TDK, memang sangat catchy sebab lagu fast number dan funky from Farah. Begitu kuat attitudenya dibikin Farah. Agak bagus bagi Cikgu Adnan sebab dah pandai buat lagu upbeat. Lirik oleh Faris nih memang laa sangat gatalnya. Baguih Faris, ko antara the youngest lyricst yang sangat productive, and you did well for Farah, Bob etc. Some people told me their opinion yang lagu nie macam menjerit2 sket, but that's their opinion, and this is my blog. Wahahahaha. Actually I heard the original version, yang Cikgu Adnan buat untuk demo lagu nih. And guess what :
CIKGU ADNAN, IF YOU'RE READING THIS, THE ORIGINAL VERSION IS BETTER!
Really, bunyinya lebih funky dan modern sebab macam lagu2 R&B/HipHop lak. Okay, maybe dia nak sentuhan Rock. Boleh diterima.
03 - Usah Kau Berpaling
I love this song sooo much! Balada terbaik selepas TDK dalam album nie. Actually tak bole nak banding dgn TDK sebab this one is not so melancholic. Iramanya ada kelainan dan kualiti. Mungkin dalam kategori lagu Elegi Sepi slower version. Chorusnya memikat. Muziknya minima pada permulaan namun makin bangkit dan bangkit bersama progress lagu. Grafnya menaiklaa kiranya. It's good. Kemuncaknya sebelum bahagian akhir lagu. Memang macam filem. No wonder, ia dibikin Sharon Paul, so you guys don't have to hear Cikgu Adnan's nya jer. Hihihi. Choices, okay, choices.
04 - Menari Bersamaku
I bet you kalo korang tak bergerak mase dengar lagu nih, korang bukan manusia biasa. Mungkin korang jin tanah, atau korang ialah seorang zombie yang kehilangan jiwa. The most catchy song in this album! Maybe it sounds so cheesie, macam the cheerleaders nya lagu, or Hillary Duff's Lizzie Mcguire nya soundtrack, but yup, it make people ceria all the way! Bubbly Pop is good for your soul. Sangat energatic. The lyric by Judliza Adlizan is so kanak2 one. But memang sangat seswai laa sebab followers Farah nie memang ramai budak2 pompuan yang ala2 bintang kecil nih. She's their idol. Juz dengar lagu nih and let's have fun!
05 - TDK
Perlu ker review lagu nih? Bakal Juara Kategori Balada - Juara Lagu 2005...
06 - Mengejar Pelangi
Rock dude. Bau rock itu memang tercapai laa. It's not that hardrock, tapi cukup untuk seorang sweet gurl macam Farah. Bawah sikit daripada Rock Kelly Clarkson, tapi boleh sampai situ. Seriously, Farah macam Kelly Clarkson Malaysia. Farah can tackle Pop, Ballads, Rock and even Rap tau. This track macam lagu yang rebellious and jiwa hippie yang ingin terbang bebas selalu. Kalo korang dengar, korang akan dapat bayangkan macam video clip dia, naik truck kat gurun2 Aussie ke, or whutsoeva, then buat gig kat stadium. Gile ah. Korang akan rasa macam nak terbang laa dengar lagu nih. Dunhill/Camel Active nak buat lagu nih jadik theme pon okay.
07 - Milikmu Sepenuhnya
Lagu moderate from Farah. And what to expect, Sharon Paul laa. Thanx Sharon for bringing on colours for this album, to balance genre music Farah. Sebenarnya sekarang nih memang zaman lagu moderate sebab tak ramai nak mengaku layan lagu melancholic. Pasal tue JFK dah makin laku. Dia pandai buat moderate. Lagu nie senang dihadam, takyah fikir2 sangat. Easy listening. Sambil2 buat homework/assignments bole layan. Tapi kat hujung ada sket klimaks yang memberi tenaga kat lagu nih. And you can hear skill 'jerit' Farah come together with ramify technic! Agak layan! Macam ada punch sket kat ujung, baguih tol.
08 - Mengapa...Janji Manismu
Memanglaa good choice of song, tapi itu tak cukup. Mungkin Cikgu Adnan nak save cost for this song, atau ada masalah lain macam protocols and all that. Lagu sedap, dua2 pon, but the rearrangement, sounds so 'cheap' macam dengar lagu midi. When you're working on other people's work, you have to do better than them. Kalo lagu nie diarrange oleh Cikgu Ramli MS, maybe it will do better. Bukanlaa nak memperlekehkan Cikgu Adnan, tapi orang yang ader instinct music must be agree with me. We're expecting macam ada orchestra or acoustic nyer version....Sayang u know...
Overall
Macam tak cukup sebenarnya untuk mendengar sebuah full album yang ada 8 track aje. Why don't they put remixes ke, minus one ke etc? Macam Zahid ade 3 versions of WO! Papepon kalo nak bagi bintang nie yang lemah sket. Aku tak bisa memberikan bintang. Aku kasik ikut percent & grade laa.
76.5% : B+