Wahlaaawey!
After I've made my thinking, hell yeah I need a Fotopage. Sampai bila nak post gambar2 tampal daripada Photobucket kat blog nie jer kan? Bukannya photoblog pon. Kalo yg sket2 tuh okay laa. Macam pics for the AF3 concerts and stuffs like that. So korang bole laa lawat2 kat my fotopage by clicking the link kat navbar tuh.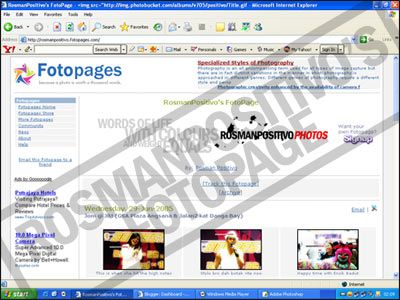 And kalo dah baru buat, so entries pon still sikit laa kan? Tp material dah ade. InsyaAllah kebanyakannya berkisarkan trips/activities yang berkaitan ngan AF atau Farah atau etc...I'm planning jugak untuk buat fotopage untuk entries designing, tp xtaulaa jadik ke tak.
Ape2pon, kepada sume AF fanz, selamat bergumbira di Dataran Putrajaya Sabtu nih. Ape yang penting I'll not be there coz I bet mesti sangat sesak, crowded dan mungkin jugak akan jadik huru-hara kalo management tak pandai handle. Sampah sarap akan bertebaran merata tempat. Dan mungkin jugak sorakan fanz akan lebih kuat daripada sound system. Huih, nie macam nak ajak orang lain tanak pegi plak nih? Hehehehe. Takde, kepada penyokong2 kuat atau fanclubs tue wajib laa bagik sokongan, jangan terpengaruh dengan racunan aku nih. Huheuheuheu.
Be united!