Wo!
This is what I call a video clip. Nampak laa usaha murni dan titik peluh yang betul2, nak buat sebuah video clip yang layak dipanggil video clip. Adam betul2 bernasib baik sebab lagu nie yang dicipta oleh KRU (Edry), and untuk melengkapkan package Yusry buat plak videonya. This is a strategy yang selalu dibuat KRU. Let's take a look...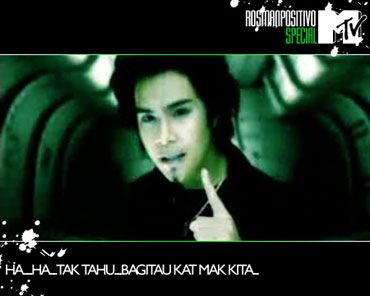 Adam with hairstyle yang lain sket, no rambut belah dua (Kaer cakap, padahal belah tengah)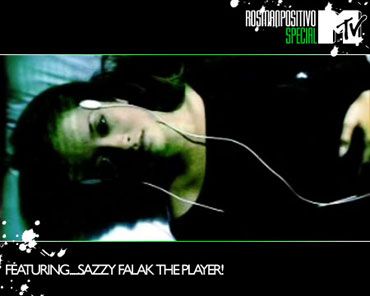 Trend masa kini, yang feature seorang selebriti pompuan as a model. Sazzy's cute!
Makin penuh video clip nih ngan tambah duo rappers yang baru nih. Looks like Too Phat huh? Sorang tuh memang macam Malique la. What's the name again?
Makin penuh lagi...dengan Es D Co. Kesian laa, kasik laa chance kan. Dah la project kena postpone. The steps are so familiar, but they got the X-Factor dowh.
Cool huh? Memang laa konsep nih dah biase kat Hollywood, but it's good. Bukannya biase orang Malaysia buat video clip canggish camni.
Main PS huh? Macam game yang nari2 tu laa kira. Bole tuka costumes and all that. But sape lagi dua orang tuh ha? Selebriti gak ke?
We've Got It Goin' On...tue kan tajuk lagu Backstreet tuh?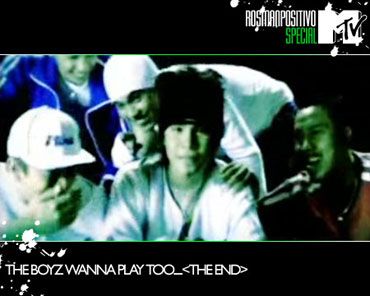 All da boyz, laughing at Sazzy yang rupanya dimainkan gak.
So the concept dalam 'cerita' nih ialah, boyz or girlz, dua2 bole main2kan spouse diorang anytime! Heheheh...