Hoorah!
Dalam Konsert2 AF3 nie, konsert nie adalah konsert yang pertama aku tengok orang kasik standing ovation. Untuk keseluruhan siri Akademi Fantasia 1, 2 and 3 aku tak pasti pulak, sebab tak ingat sangat. Persembahan comeback Kaer dulu pon macam bukan standing ovation but suatu kelegaan yang terlampau dan menyebabkan orang jadik histeria. Tabik to Marsha sebab bukan senang nak membuatkan seseorang yang sangat fussy dan cerewet macam Adlin untuk mencemar duli kasik standing ovation, plus Iman Wan

(yang jugak sangat fussy)

pon did the same thing.
Neway, konsert yang ini aku tonton dengan sedikit rasa risau sebab kalo ikut sebelum nie student yang dapat banyak airtime dan difokuskan masalahnya dalam minggu berkenaan, memang tersingkir. Tengok aje Elliza, Fuad, Idayu dan Reza. Amy terkecuali sebab dia terkeluar bukan atas tiket masalah attitude tapi persembahan yang tak memuaskan. Amylea punya potensi untuk kuar jugak walaupon undi dia naik before konsert, tapi kedudukannya di tempat ke-3, which is kedudukan berhantu. But hell yeah, budak kecik tuh terselamat gak dengan memaintainkan diri di tempat yang sama after the konsert...
The Show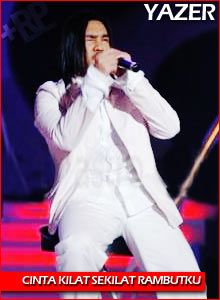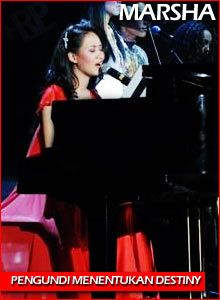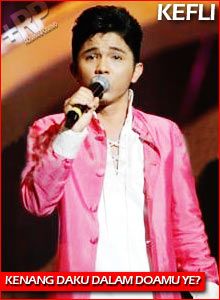 Yazer - Cinta Kilat
Suaranya betul2 telah dikilatkan. Thanx to Syafinaz yang memberikan comment tersebut padanya dulu. Tapi I bet Yazer dah confused sekarang. Syafinaz suruh kilatkan, Iman Wan nak serak. Mana satu nak ikut? Ikutlah kata hati dan tenaga pengajar. This konsert aku memang banyak setuju dengan pendapat2 Adlin. Dia tak banyak berinteraksi dengan audience. Kalo muke dia hadap depan dia banyak tutup mata plak. Tapi penghayatan baik. Feel lagu nie memang dia dapat follow dengan betul, so kite pon terikut same ngan feel tuh. Lagi best kalo dia interact. Tapi sampai sekarang pon pilihan lagu memang masih belum betul2 menguji dia. Semuanya walaupon genre berlainan tapi seswai dengan vokalnya. Kasik laa bubble gum pop ke, R&B ke etc...
Marsha - Destiny
Dia dah buat sejarah di Akademi Fantasia 3. 1st standing ovation, dan 1st student yang main instrument live. And she did it very2 well. Superb. Mule2 disuruh menggetekkan diri

(again)

untuk Adlin, but then mase buat performance terus jadik macam Diva! Yeah guys, she is not juz a getek gurl. I mentioned bout her charisma before. Itulah salah satu benda yang bagus dalam dirinya. Dia jugak sangat loveable

(like the critics mentioned)

. Aku dah fallin dengan dia. Walaupon menyanyi dan bermain simultaneously, her vocals controlled dengan sangat baik. Dia bukan saja melakukan konsistensi tapi peningkatan yang baik. I bet she'll do her best kat Final nanti...I hope so...
Kefli - Kenang Daku Dalam Doamu
Seorang yang paling tak konsisten dalam AF3 nih. Mungkin ke Siti Hall tuh mengganggu konsentrasi dia? Nampak gak dia nie memang terkezut dengan kehadiran budak Ferry tuh sampai nak lari daripada dia bila dah bukak mata. Vokal, kembali membingitkan dan irritating. Juz like Seksa. Memang dia tak boleh nyanyi Irama Asli laa. Melancholic ballads yeah, he can tackle dengan sangat superb. Dia melepaskan volume dengan sangat kuat. Yang ini memang tak dapat dihadam dengan baik oleh kornea telingaku. Juz another show to watch. Tue pon aku boleh laie pi dapur wat nescafe.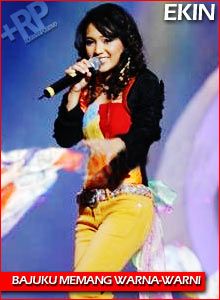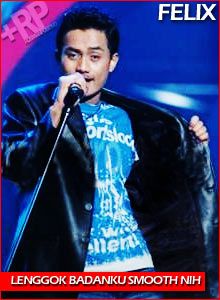 Amylea - Hati Ini Telah Dilukai
Kalo aku puji dia nie, adakah aku akan dikatakan bias? Mesti tak sebab sume orang tau performance dia memang sangat bagus. Meremang bulu roma kan? Yeah. Ketepikanlah segala benda2 yang ditunjukkan kat Diari yang membingungkan tuh. Tengoklah pada potensi, bakat, karisma dan kebolehannya, coz itu jugak yang aku buat skang. Kalo ikut hati aku yang melulu mau aje aku sembur pepperspray kat orang2 yang ngutuk budak nih. Tapi aku fikir balik secara rasional, dan kembali melihat persembahannya sahaja. Memang hebat. Paling konsisten berbanding budak2 yang lain. Kalau
SM
terlari fokusnya bila Felix masuk, aku tidak. Tumpuan aku masih terhadap dia. Felix hanya menyedapkan lagi dengan kombinasi vokal yang tepat dan tak lari keynya. Thank you Felix. Then, ketepikan soal cengeng atau ape pon. We're not in her shoes so memang tak patut kate ape. Maybe we'll cry louder than her pon. Aku akan 'berkabung' kalo dia terkeluar...
Ekin - Warna
Juz like my review untuk
Konsert ke-5
, ada cara tertentu untuk menyanyikan lagu2 Sheila Majid. That's why dia ade class yang tersendiri. Lagu Sheila Majid kebanyakannya 'membunuh' orang yang menyanyikannya semula. Amylea dulu pon performancenya jadik sedikit tak bagus disebabkan lagu Ratu Jazz itu jugak. Ekin juga salah seorang yang tak konsisten dalam AF3. Kadang2 superb, kadang2 hambar, ikut lagu laa kot. Kalo masa Let's Get Loud dia sangat energatic, dia sangat lemau dalam Warna. Warna itu sendiri aku tak dapat rasakan, juz like whut Adlin said laa. Sepatutnye suasana jadik ceria. Untuk wardrobe malfunction, sila ke blog
Joe Klubbkidd
.
Felix - Smooth
I'm with Adlin. Setiap kata2nya, tak taulah, memang aku setuju. Tapi adakalanya dia terlalu tegas. Memang hancur lagu nie dibawak Felix. Diction jangan expect yang bagus laa kan, dia pon memang ngaku dia tak pandai English, so itu dapat diterima. Lirik dikunyah setelah terlupa. Lirik yang sama diulang dalam dua rangkap. Bole diterima dalam keadaan terdesak. There...tengoklaa, setiap kesalahan dia, aku susuli dengan 'boleh diterima'...kenape? I don't know, itulah magicnya Felix. Orang akan terima apa shaja yang dibuatnya. Plus showmanship yang ditunjukkan memang menarik. Gerak badan dia yang berterabur tue still menarik untuk ditonton. Ntahlaa, memang dia nie spesies yang disukai ramaila! Tapi bagi aku dia perlu lebih pro dan series lain kali...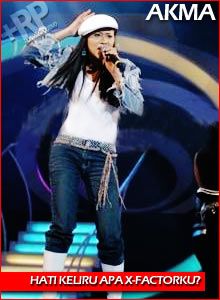 Aidil - Matahari
Whoa, sedap gak lagu Amuk nie di tangan Aidil. Merdu. Lembut dan boleh didengari bila2 dan di mana sahaja. Sebutannya terang dan jelas. Tapi,

(ada tapi nie)

dia terlampau statik. Tak banyak pergerakan. Memanglaa lagu slow tapi at least janganlaa terpacak berdiri saja. Dia juga tak menyelami emosi lagu tue dengan mendalam. So expressionnya lebih nampak dibuat, bukan natural. Bandi muncul, tapi Aidil plak buat dek aje. Dah berapa kali dia dapat benda/props tapi tak digunakan langsung, macam Nak Dara Rindu dulu. Suara yang sedap dan nyanyian yang tak banyak slack tapi tak diambil kesempatan nie untuk membuat sedikit

(at least, kalo tak banyak pon)

improvisation untuk mencantikkan lagi lagu nie. But still, sedap untuk didengar...
Mawi - Memori Cinta Luka
Lagu nie tinggi, tak ramai yang bole nyanyi dengan sedap. But Mawi did it with his own style. Suaranya besar tak macam Nassier Wahab yang lunak dan lembut. So memang lari dari bayangan Nassier. Penghayatannya memang tinggi, dan congratz kerana berjaya menangkis tekanan yang begitu kuat daripada penonton dan penyokongnya yang sangatlaa bising bersorak-sorai. Aku betul2 berharap yang penyokong2 Mawi akan lebih memahami situasi Mawi lain kali dan tidak lagi bersorak-sorai sebab akan mengganggu tumpuannya. Tapi ini merupakan latihan yang bagus buatnya sebab dia dah makin lali dengan situasi nie. Mula2 aku tak dapat detect apa yang kurangnya nyanyian Mawi, but then baru realized yang takde backup vocals untuk buat 2nd voice. Patutlaa kurang sket umph dia. Memang gile tinggi second voice lagu nie but Felix bole buat rasenyer. Tempo Mawi okay jugak, tak banyak yang lari, minus the minors.
Akma - Hati Keliru
A different Akma this time. Nampak funky. Pergerakannya nampak yakin juga. Suara memang macam biasa okay. But the high note ad-lib macam tak kena dengan suaranya yang sikit tebal. Vokalnya paling optimum untuk lagu2 ballads. Persembahannya dah bagus, tapi kenapa masih tak cukup nak memuaskan hati kita semua? Tepukan untuk Akma memang kurang sangat. Penonton macam sekadar menonton sahaja, dan tidak enjoy. Itulah kekurangan Akma. Dia tak mampu untuk menarik penonton masuk ke dalam ruangnya untuk enjoy bersama2. Bila waktu break dan dia menari, tiada tepukan, yang mana kalo orang lain buat

(especially Mawi la)

mesti orang akan terjerit2 dan bertepuk. Sampai Iman Wan juga mengatakan perkara yang sama. Ada kekurangan yang kita tak dapat nak ungkap. Kesian jugak kat Akma nie...
Menuju Puncak Version 3.5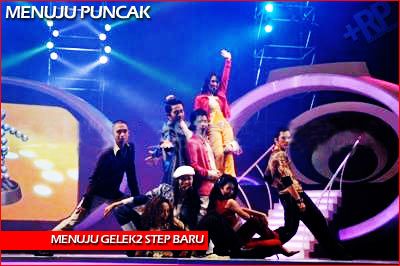 Kali nie ditambah/diubah sket tarian dengan ada gerakan gelek2 bontot. Nampak Mawi ngan Felix tergelak2 bila buat gerakan tuh. Macam biase okay je sume2. Cuma yang kurang adalah bunga api. Astro pokai ke tanak pakai bunga api lagi? Wehwehwehwehweh....
The Shocking Elimination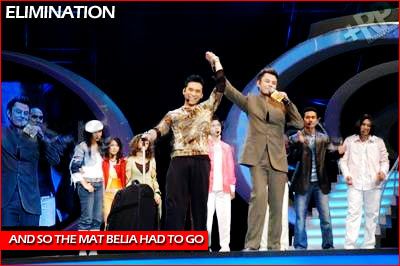 Memang a shocker laa. Bukan penyingkirannya

(sebab itu boleh sangat diexpect, no offence)

tapi reaksinya yang memang real! Cikgu Marlia must be proud of him. Aku dah tatau nak cakap apa mase tuh, plus tengok muka mama dia yang betul2 risau kat bawah, hampir2 naik atas stage je tuh. Dia juga membuat satu sejarah yang mana membuatkan eliminasi jadik ceria, gembira dan mesra. Best dapat tengok masing2 tergelak, termalu sendiri. Penyokong2 Sarjan nih walaupon sedih tapi tersenyum riang jugak. Memang best. Orang tak benci kat dia dan dia kuar pon secara terhormat. Elimination yang paling best, bukan sebab aku nak dia out, tapi sebab aku tersenyum2 sendiri gak. All da besh Mat Belia!!!
Cahaya Tinggi Lagi (Highlights laa Mak Ngah)
First time pengkritik muncul dengan cara naik ke atas pentas.

Mase Kak Pah naik, lagu jadik lagu suspen, macam lagu untuk Edisi Siasat, tak pon 999.

Iman Wan dengan pantas tak mengaku dia yang kasik lepas si Aidil (jahat nih...ikikikikikik)

Lagu Pokok Kelapa(k) pertama kali dinyanyikan live kat Konsert.

Ferry tuh memang hebat. Suara sejibik Siti. aku ingat pompuan, walaupon setelah dia kuar ke atas stage...

Wardrobe malfunction berlaku pada Ekin. Gi ke blog

Klubbkidd

untuk pics.

Bandi muncul dan bukak topeng tapi haram sorang pon tak nampak muke dia. Cheesedale betol.

Kak Pah bakal mengundang kontroversi dengan mempersendakan pemakaian tudung. Tapi bijak menutup kesalahannya dengan memuji idola Malaysia, Mawi...

Aidil rapping untuk Akma, tapi tak mendapat sambutan yang sepatutnya daripada audience.

Aidil memang besh laa...hihihihi. Ai Ai Sarjan!
Di waktu malam...bulan mengambang....