Hahahahaha....
Tengok jela tajuk aku buat. Lepas dah siap editing sume baru sedar macam free promotion lak entry aku kali nie. Ape2 pon, ia cuma benda yang best yang ingin aku share dengan masyarakat Malaysia yang asyik2 berinternet sepanjang mase macam korang nih! Hahahaha

(jangan buat2 pandang tempat lain lak)
Winamp 5.093 and The No.1 Skin
(Haaa..nie contoh Winamp skin yea...bukan suruh korang tengok wallpaper yang anggunz tuh...ekekeke)
Before nih aku pernah pakai semua series Winamp and what I found ialah Winamp3 aku rase yang tak berapa user-friendly sangat. Masuk Winamp5 memang puas ati, cuma PC korang kalo yang jenis lame, zaman2 Tok Kenali mahupun Tutankhamun, jangan laa pakai Winamp5 nih, berat jadinyer. Skang, Winamp5 dah ade 5.093 yang the latest

(buat mase nih)

dan mengikut historynya, berikut ialah ape yang telah difixed :
Fixed: OSD stays onscreen in DirectDraw Mode*
Fixed: Fullscreen video OSD doesn't reappear after using Pause*
Fixed: ML Playlist > Select all (no delete key)*
Fixed: Vis data for in_mod (and possibly other input plugins)*
Fixed: msvcp60.dll now linked static*
Fixed: Small intermittent bugs in gen_ml and gen_ff*
Fixed: Greater than 2 channel vis data now works*
Fixed: Media Library problems with parentheses/brackets in artist or album names*
Fixed: Ripping CDs with trailing ellipses (...) in artist or album name*
Fixed: Better video flipping for YUV colorspace videos*
Fixed: Saved mute settings with modern skin.*
Fixed: Drag and Drop from external applications*
Fixed: Open File Dialog always-on-top*
Fixed: Crossfade on start*
Fixed: Freeze when switching audio tracks in a multi-audio stream.*
Fixed: Fullscreen switching with scaled video window.*
Update: Dynamic Online Media can now alert users to live events(can disable).
(Main console dia...)
Apa yang sebenarnye aku nak promote ialah the no.1 skin rated kat Official Website Winamp titled MMD3. Dah lame berada kat no.1 di carta tapi aku buat dek aje. Ingatkan another skin yang konon2 canggish gile and mengarut2 laa. Tapi this one memang best, user-friendly dan tak mengarut2 pon. Ade lebih daripada 70 color themes yang ada dalam pack. Dan yang menariknya ialah advanced visualizationnya memang menarik. Yang paling special ialah visualization muke orang macam Gwen Stefani. Cantek! Juga ada choosable drawer nak kat kiri ke kanan. Window untuk video memang compact. Winshade mode nya boleh buat vertical atau horizontal. And ade knob khas untuk volume bass dan treble. Sape2 nak donlod skin nih...
(DOWNLOAD SINI)
HeroMachine
Benda nie diintroduce oleh NizamZakaria di blognya untuk buat karakter Sikapitan. Selepas ditry dengan cemerlang oleh aku, memang benda nih best. (Link di sini) Ade 32 bahagian badan+accesories yang boleh kita buat sendiri

(disupply laa,bukanla lukis sendiri)

hanya pilih yang mana berkenan di hati dan wallah, siap! Nak watak2 canggish ke, watak zaman Conan ke, suke ati korang laa. Kalo aku programmer dah lame aku buat gak benda nie. Isy...Papepon nie antara percubaan aku buat karakter superhero...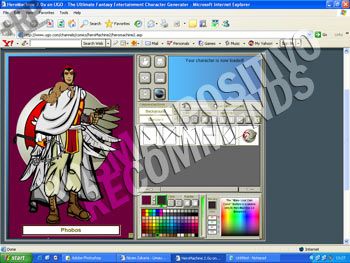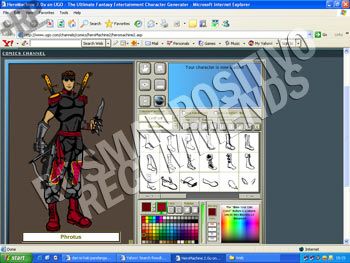 (Yela, kalo tak lawa takpelaa. Korang buat laa lagi lawa)
Ini saje free promo aku pada hari nie. Dua website nie nanti kena bagik royalti nih kat aku sebab promote diorang. Hahahahah. Nanti ade benda best lagi aku letak yea.
Layankan!