Yikes!
Monolog Terhadap AF3...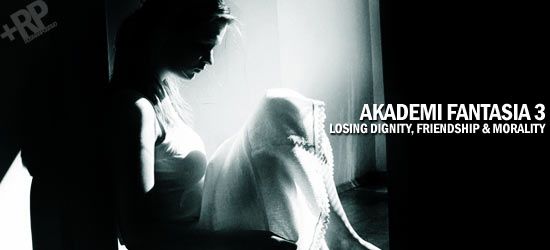 Pernah tengok cerita ala2 dark? Suram, kelam, banyak benda negatif, melankolik. That's Akademi Fantasia sekarang. Banyak sangat benda2 negatif yang dah merosakkan Akademi. AF is not AF anymore. Thanx to Mr. Panjang

(which is way older & matured than me)

, I've broaden up my mind to a different wavelength rite now. He affected my mind in a way, so that I can see things clearer than before. Maybe it's rite, maybe it's wrong, but it's still a gud angle to look up from. At least aku dapat menilai banyak pendapat daripada school of thought yang berlainan untuk dinilai.
Dengan title yang aku berikan saja dah cukup mengatakan keseluruhannya. Skandal dan politik yang dimainkan dengan baik sama ada oleh pemain2nya sendiri, cikgu2, krew penerbitan mahupon penerbit sendiri. Skandal dan politik yang membuatkan AF semakin dramatik, penuh kontroversi dan mengabui banyak mata peminat2/penonton2. Kalau tak mengabui, bukanlah skandal dan politik namenyer...
Isu paling besar sekarang ialah isu Amylea. Bagi mereka2 yang dah pernah bace blog aku dari mula, atau yang dah tau, memang Amylea is my favourite, and she will alwayz be. Benda pertama yang memikat aku untuk minat dengan budak Christmas Tree nie mestilah bakatnya. Personaliti dan attitude are different things. Selama nie memang segala tohmahan yang diberikan aku telan bulat2. Bukan senang nak mengikis sifat favouritisme dalam diri insan marhaen macam aku nih. Cuma yang penting betapa kuatnya penerimaan kita untuk membuka minda, dan consume segala pendapat dan teori2 untuk meneutralkan pemikiran.
Konflik2 yang berlaku di Akademi sememangnya buatkan aku dan korang jugak makin teruja nak tengok Diari, tapi sedar tak sedar benda nie lah yang mencemarkannya. Kalo dulu kita seronok menonton betapa neutralnya budak2 AF1 berkawan. Hidup yang betul2 harmoni, innocent. Nilai kekeluargaan sangat kuat. Itulah yang terjadi kalo masing2 tak tau ape2 pon tentang flow Akademi Fantasia. Season ke-2, musim paling hangat. Semua all-out, daripada pelajar, ke tenaga pengajar, kepada team penerbitan, semua all-out. Nilai kekeluargaan, bakat dan personaliti diseimbangkan sampai ke tahap optimum. Tak dinafikan mestilah ade jugak sikit salah faham walau sekelumit pon, tapi itu semua diorang handle dengan sangat bijak. Masalah dalam kelambu diorang settle dalam kelambu, itulah caranya. Bukan menjaja di hadapan bejuta2 rakyat Malaysia.
Di AF3 pulak, semua dah jadik lain. Flow perjalanan rancangan dah berubah. Pertandingan yang sebenar dah jadik. Pertandingan bakat tak jugak, tapi yang nampak pertandingan personaliti. Semua mesti ade identiti, mestilah baik dan tingkah laku yang menarik perhatian secara natural, kalo ade bakat itu satu advantage. Dah terbalik! Mereka kena tonjolkan sesuatu dalam diri mereka. Tapi cara penonjolan itu mesti dipersembahkan secara natural. Macam mana tue? Memang susah.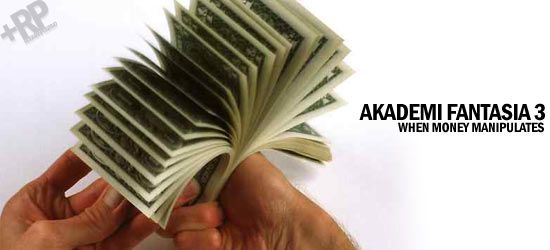 Banyak sangat yang kurangnya dalam AF3 nie. Bukan dari sudut bakat dan persembahan nyanyian laa, tapi dari sudut kemanusiaan. Sememangnya bila pergolakan dan permainan kapitalisme menguasai, bila wang ialah penggerak utama, nilai2 kemanusiaan akan semakin susut. We have learned all of these before, dari sejarah dunia sebenar mahupun dari medium seluloid sekalipun. Sedangkan kejatuhan Atlantis pon ada dikaitkan dengan komplot nie, dan kalo dari filem, kita boleh tengok macam mane korupnya Gotham. Money is everything nowadays...
I'm enjoying myself watching the Diaries but now, aku memutuskan untuk hanya menontonnya sahaja, dan cuba mengelakkan daripada emosi aku menguasai diri bila menonton. Aku akan hanya menonton untuk hiburan. Kita tak boleh menilai segala2nya hanya daripada Diari sekalipon menonton Xtended sekalipon. Banyak lagi benda yang kita tak tau, yang tak dipertontonkan, dan anytime kita boleh dimanipulasikan.
Thank God, review aku hanya tertumpu pada Konsert2. Aku akan melihat AF3 sebagai pertandingan nyanyian dan persembahan semula. Aku tak mahu tersilap langkah, tersilap pandang, tersilap kata. Buruk padahnya...

Be united, tetap kupegang...