I Say Wo!
(Entry ditaip ketika penulis sedang mamai2 lalat, mengantuk nak titon. Sorry kalo ader typo error)
Petang semalam, Khamis, 14 July ada press conference untuk showcase Sunday Nite Live Zahid & Frenz. Mula2 ingat juz showcase Zahid aje, tapi dah jadik And Frenz lak laa nie. Akan ada Farah, Adam, Nana and kalo ader yang lain2 tue ader laa nanti. PC nie dihadiri jugak oleh Farah, Adam, Sham Kamikaze and Abang World kite, Abang Aman. Showcase akan berlangsung pada 7 and 21 August 2005 nih, tiket dipercayai bereger RM35. Standard price laa untuk Sunday Nite Live. Nak berapa laie.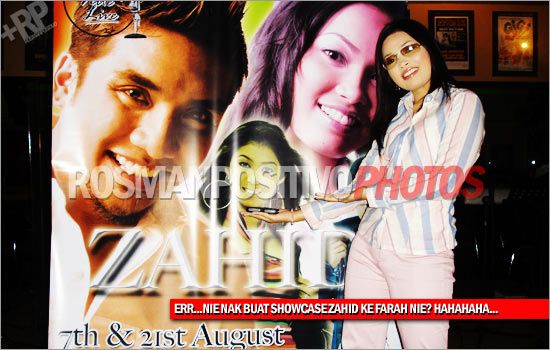 (Farah tengah mempromote banner showcase which is lebih elok laie daripada banner album tour Zahid ngan Farah tue...)
Gambar2 mase press conference insyaAllah akan diedit cepat2 dan dipostkan ke fotopage aku. Rajin2 laa jenguk yea. Dan entry nie mungkin akan diedit nanti setelah otak berfungsi dengan elok balik. Bolelaa tambah laie info2 ape yang patut.
(Petang esok [Jumaat] aku akan berangkat ke Melaka untuk Album Tour Farah and Zahid. Jom laa gie skali yea?)