Ziungziangzing!
(Bunyi di atas merupakan bunyi ayunan pedang. Harap maklum)
A New Start
It really feels awkward typing my entry, setelah berapa lama dibiarkan (unintentionally) tanpa update, kecuali penukaran banner atas nih ha. Now, as all my exam papers passed, i'd really love to continue blogging. RosmanPositivo 2006 kembali dengan warna yang lebih segar dan muda, macam M. Nasir dengan album barunya.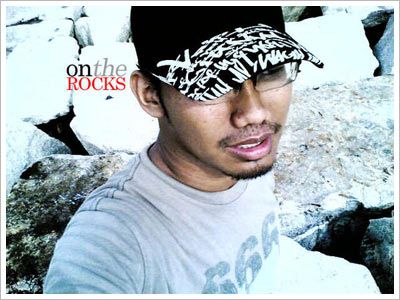 Rocks: Metaphor for the challenges of life, or stepping stones?
A friend of mine noticed me smiling when i was browsing through all the comments left here, then dia tegur why? I said

it really feels good when you see people still browse to your blog when there is none of updates there

. Really. It is inspiring. Tiada yang lebih menggembirakan selain mendapat sokongan orang lain. Dan sedikit sedih bila kita sendiri tak dapat memenuhi harapan meraka. And now, aku berasa sedikit selesa sebab akhirnya dapat jugak buat entry.
Too many things happened sepanjang ketiadaan aku kat blog nih. Some of them were good, sour and pahit sokmo. Banyak juga yang nak ditulis dalam blog nih, tapi kena ditapis dulu contentnya dan prioritynya. Kalo tak bertimbunlaa entry tertangguh nanti. One of the most interesting things would be the play of Jantan Meletopz, that was directed by me. Ia merupakan sebuah sketsa parody reality tv, sepertimana video klip Terhangat Di Pasaran oleh KRU dan Adam. For this Jantan Meletopz thingy, aku akan menyediakan entry khas untuknya nanti. It won the 1st prize of my faculty's Malam Estetika Seni 2006, and replayed for Festival Kolej with enhancement and extention of elements. I myself played the character of Faznil Haji Bawawi, the parody of you-know-who.
Hampir terlupa yang blog nih juga merupakan sebuah blog entertainment cum pro-AF. Terlalu banyak benda yang aku ketinggalan selama beberapa bulan nih. Tapi sedikit sebanyak benda2 yang penting aku amik tau jugak. But kes2 berat seperti terlupa malam APM

(i missed the whole show)

dan AIM13

(i missed half of it)

tak boleh dimaafkan langsung. Rase nak bakar aje satu kampus. Duh...
(Entry is about to be continued. Network problem)