Choy...






RekaTee TV3



Kalaulah anda pelanggan Astro sekalipun, tentunya tv2 free yang lain anda masih tonton jugak kan? Tipulah kalau kate tak tengok langsung. Bukanlah aku kate ko perlu tengok TV1 yang asyik berubah branding tu saje (ops), cuma TV3 ni sume orang akan tengok juga walau macam mane skalipon. Betol tak? Pasal tu Karam Singh Walia tu dah jadi wartawan peringkat selebriti skang nih. Pasal kita yang tengok dan mengangkat beliau.

Ok ok. Melalut. Cerita pasal TV3 ni sebenarnya untuk posting pasal RekaTee. Mesti sume pon penah dengar atau tau sekelumit kan. Sebab bonda aku yang dah pencen tu pon tau, apatah lagi korang yang sangat tech-savvy ni. Kalau taktau juga memang mak aku lagi canggish daripada korang. Chet.

These are
my humble submissions for it.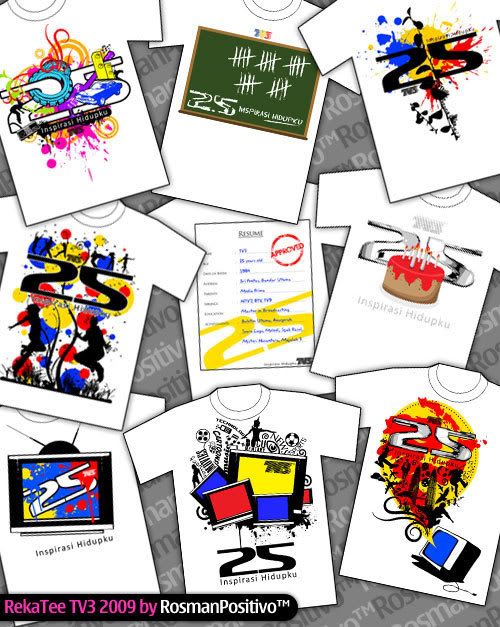 Bukanlah lawa sangat pon. I mean it's not supposed to be so lawa pon. Seriously. Sebab tengok sajelah contohnya masa audition mane2 realiti TV. Bukan kena sedap sangat pon suara kau untuk masuk dalam tuh. It's just the matter of the judges rase ko fit in. Yang lagi sedap pon tak dapat, ko yang suara macam angsa (ops) pon boleh lepas dan jadik finalist. Kan? So dalam hal RekaTee ini, bukanlah design ko kena wahlawei sangat, cuma kena menepati tema dan seswai. Seswai dalam erti kata seswai dengan mata judges dan seswai jika ianya dipasarkan kepada masyarakat. Dan tak lupa seswai untuk diprintkan. Sebab kadang2 orang main design je, bila nak manufacture, nak print, dah complicated.

I've printed a number of t-shirt series. Dan oleh kerana pengalaman itu bila aku design (tshirt dalam hal ini), aku terus memikirkan bagaimana orang akan print tshirt yang aku design tu. Jadi kalau diamati, design2 di atas adalah printer-friendly. Maksudnya kalau pakai silk-screen tu memang boleh buat. Takde lah orang tu nak memaki hamun designer nya. Cuma the negative side is ; design aku takkan nampak segah design orang lain. I've seen a few designs yang lain yang dah disubmit. Ade yang betul2 eye-catching. memang overshadow dah designs aku. Cuma adakah ianya printer-friendly? Tapi (lagi), printer-friendly mungkin bukanlah satu faktor untuk memenangi benda ni and if that so, I've already left behind. Takpelah. Bukan rugi pon. Pegi cc berapa ringgit sangat.




Beneath It




Nah. Ini bukan soal duit. TV3 dah stated yang semua entries akan menjadi hak milik TV3. Hadiah pulak RM10000, RM5000 dan RM3000. Besar kan? Do you smell something fishy?

RM10000 untuk sebuah pertandingan MEREKA t-shirt. Bukan buat tshirt. hanya REKA saja. Ini tentunya menaikkan curiosity aku.

Okay, let put it this way. Pertandingan design t-shirt, hadiah utama RM10000, open to ALL MALAYSIANS. Nampak tak?

They're collecting thousands, or millions of fresh ideas FROM US! And it's worth way more than RM10000 + RM5000 + RM3000 = RM18000. Seriously. Idea2 yang disubmit itu semuanya bernilai lebih jutaan ringgit. RM18000 hanyalah modal kecil untuk mendapatkannya secara sah daripada kita. Tentunya hadiah yang lumayan tu menarik skali bagi sume orang TERMASUK designer2 profesional. Mana ada orang nak dapat designs and ideas from the professionals FOR FREE? Inilah dia.

Now can you see how brilliant TV3 is?

Kudos!